The Natwest 6 Nations Championship kicked off in early March, gifting us with a host of exciting encounters between some of rugby's elite.
Unfortunately for the rugby enthusiasts, the championship draws to a close this Saturday (17th) with events kicking off in the city of Rome and concluding in Cardiff.
Without fail, the 6 Nations Championship always proves to be an exhilarating spectacle. The championship manages to consistently ignite hair-raising nostalgia, as well as producing heart-break and controversies. The year of 2018 was no different.
More so, this year's 6 Nations has witnessed the incredible rise and unexpected falls of some of rugby's top-dogs and underdogs.
Notably, Scotland emerged as a significant powerhouse by beating both England and France. Should they have conquered Wales in the first round, Scotland may have been serious contenders for the title!
Contrastingly, and unexpectedly, England finds themselves in a position they are not very familiar with. Whilst their championship campaign got off to a good but rocky start, it was expected that England could potentially retain their title.
Despite this, whilst the likes of France, Italy, Scotland and Wales battle it out to secure a respectable position, there is one specific match that will be the centre of attention that day.
That's right because, on Saturday 17th of March, all eyes will be fixated on Twickenham when the mother of all battles will commence between England and Ireland. 
It's the white army vs the green army.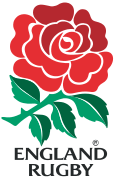 The English Rose vs the Irish Shamrock.
St. George vs St. Patrick.
William Shakespeare vs Oscar Wilde.
Walkers crisps vs Tayto.
A slight exaggeration towards the end but you get the picture. It's a big, BIG game fueled by immense rivalry.
What's at Stake?
The answer to that is both pride and glory.
Two neighbouring countries sharing a rich history steeped in sporting and political rivalry, the encounters between England and Ireland are always a noisy affair.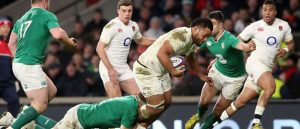 Having already been crowned champions last weekend, Ireland now faces the task of securing just their third ever Grand Slam. Adjacently, and with the title now out of reach, England are assigned with avoiding three straight defeats.
To add more fuel to the fire, Ireland have the unique chance to secure the Grand Slam in England's backyard on St. Patrick's Day!
While Ireland has had the pleasure of spoiling England's Grand Slam party before, the power is now in the hands of Eddie Jones' men to deliver a similar dent to Ireland's Grand Slam hopes.
Particularly, England will be out for revenge after last year's Grand Slam interruption from Joe Schmidt's men at the Aviva Stadium in Dublin.
With Ireland riding the wave of optimism, there is an offered word of caution ahead of the potential fairy-tale ending.
The Statistics
It's no secret that Twickenham Stadium is a robust fortress for English rugby. Anyone who dares to enter the lion's den rarely emerges unscathed.
For decades, the battles at home and away between these two giants have been tense, fierce and breath-taking. And ahead of Saturday's big clash, the match statistics offers some insightful reading.
England vs Ireland, record in England:
44 wins for England
17 wins for Ireland
4 Draws
Overall Record
76 wins for England
48 wins for Ireland
8 Draws
As the stats suggest, the home of English rugby is a raging territory for any Irish team to battle in.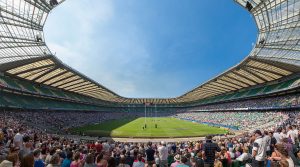 Additionally, in light of these eye-brow raising statistics, it is worth mentioning that England's demise to Scotland and France were away from home. This prompts many to consider a change in England's attitude when they play Ireland within the walls of their own fortress on Saturday.
After all, Ireland is no strangers of feeling the wrath of a solid English performance, especially in their own backyard in Twickenham.
That said, the Irish faithful will be hoping that St. Patrick's Day will offer just an extra bit of luck to help them overcome this mammoth of a task.
Places to Watch The Big Game
Need a place to get comfortable for Super Saturday? Here are a few bars/places you should consider:
More detailed information about these bars can be found here.
May the Best Team Win
While there may be pride, glory and bragging rights at stake, Saturday's mouth-watering clash is sure to serve up a tasty affair.
The main objective for all rugby fans is to witness a great game of rugby leaving us utterly shattered from the relentless rush of adrenaline.
Whatever the outcome, the day is set to be a great day for everyone. No doubt the essence of St. Patrick's Day will swoop in and offer a good reason for a unified celebration between both sets of fans.
Kick-off is at 14:45 pm live on ITV
May the best team win!